11 THINGS I LEARNED SPENDING A YEAR IN BERLIN'S PARKS | part 4
There is something healing about nature which also applies to play. 
Coming from Silicon Valley where people regularly work 60-70-80 hours a week, the amount of time and space dedicated to play here in Berlin made me think that Berliners were a bit lazy. Play didn't fit into my life for many years. And when it did, it was reserved for the weekend.
The importance of play and the need for spaces to play really hit home when I was visiting Paris. I stayed near the Sacré-Couer Basilica and wandered into a rap competition for the local youth held in a nearby open space. The energy in the area, the support from the crowd, the pride of the performers was palpable. I suddenly realized how much value these spaces provide for both the kids and the neighborhood.
I remembered biking through a poor neighborhood in LA. I was going to a public garden, one created in the 1960s by the Black Panthers. I saw no parks, no playgrounds, no places for young kids or youth to hang out. Even the McDonald's had bulletproof windows inside the store, where you place your order.
Then I thought of the shooting of Tamir Rice, the 12-year-old black boy who was in a city park in Cleveland, Ohio – playing near a gazebo with a toy gun. I have a new appreciation for parks and for the adults and youth who spend their time there.
Wild at Heart
Judging from the parks, Berliners old and young like to have fun. In addition to the trampolines that I love so much, you can find slides, swings, ping pong tables, seemingly hand-carved creatures for children to climb. Many parks have walls available for painting graffiti and street art. If you get hungry after your play you can often find a cafe or food kiosks inside the park.
Berlin has playgrounds everywhere. I see them in pockets of land between buildings, on empty corners, in parks and public squares. There are ping pong tables in parking spaces and strips of unused road. There are also skate parks, soccer fields, climbing walls, swings, pathways for bikes, rollerblades, running and kiteboards. And one rollercoaster. 
Coming from a city that just recently purchased matching playground equipment which it is erecting in parks around the city, the diversity of play in the parks of Berlin is surprising to me.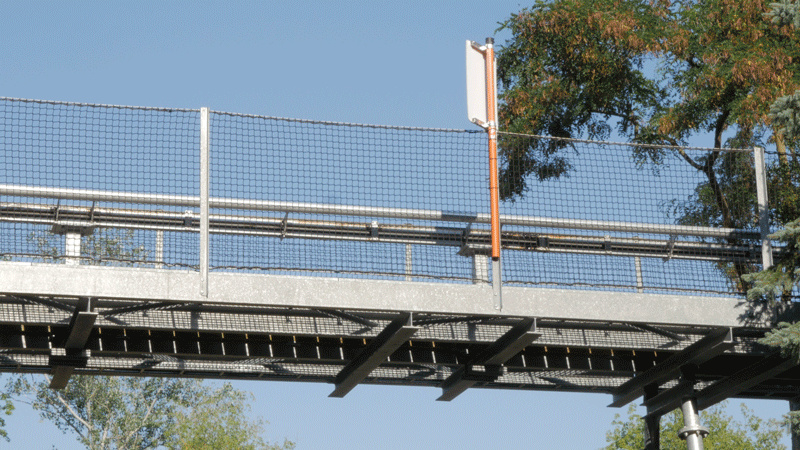 Variety
One thing that struck me upon exploring the kid's parks was the individuality of the structures within these parks. There are carved wooden figures of sea animals and dinosaurs. There are themed parks. A small playground near Ostkreuz has a minibus that the kids can enter and pretend to ride. In Prenzlauer Berg they can play on airplanes, and Neukölln has a new 1001 Nights themed play area.
I've since discovered that some of these one-of-a-kind carvings have twins. A unique two-headed dragon that I saw in the far eastern area of Ahrensfelde has a double in the western district of Steglitz.
Even if some of the carvings are not completely unique, they are a nice change from the manufactured metal variety of playsets.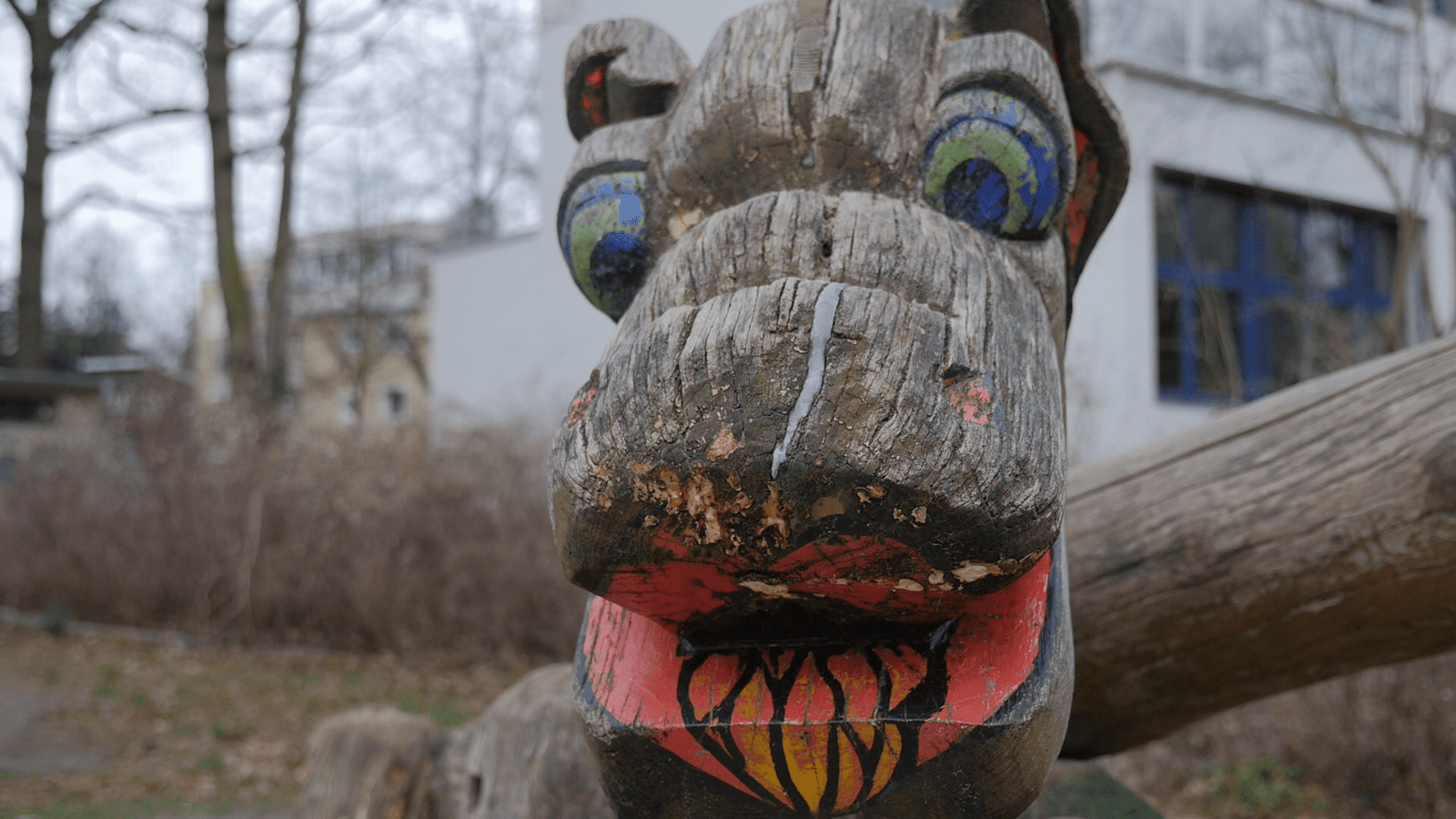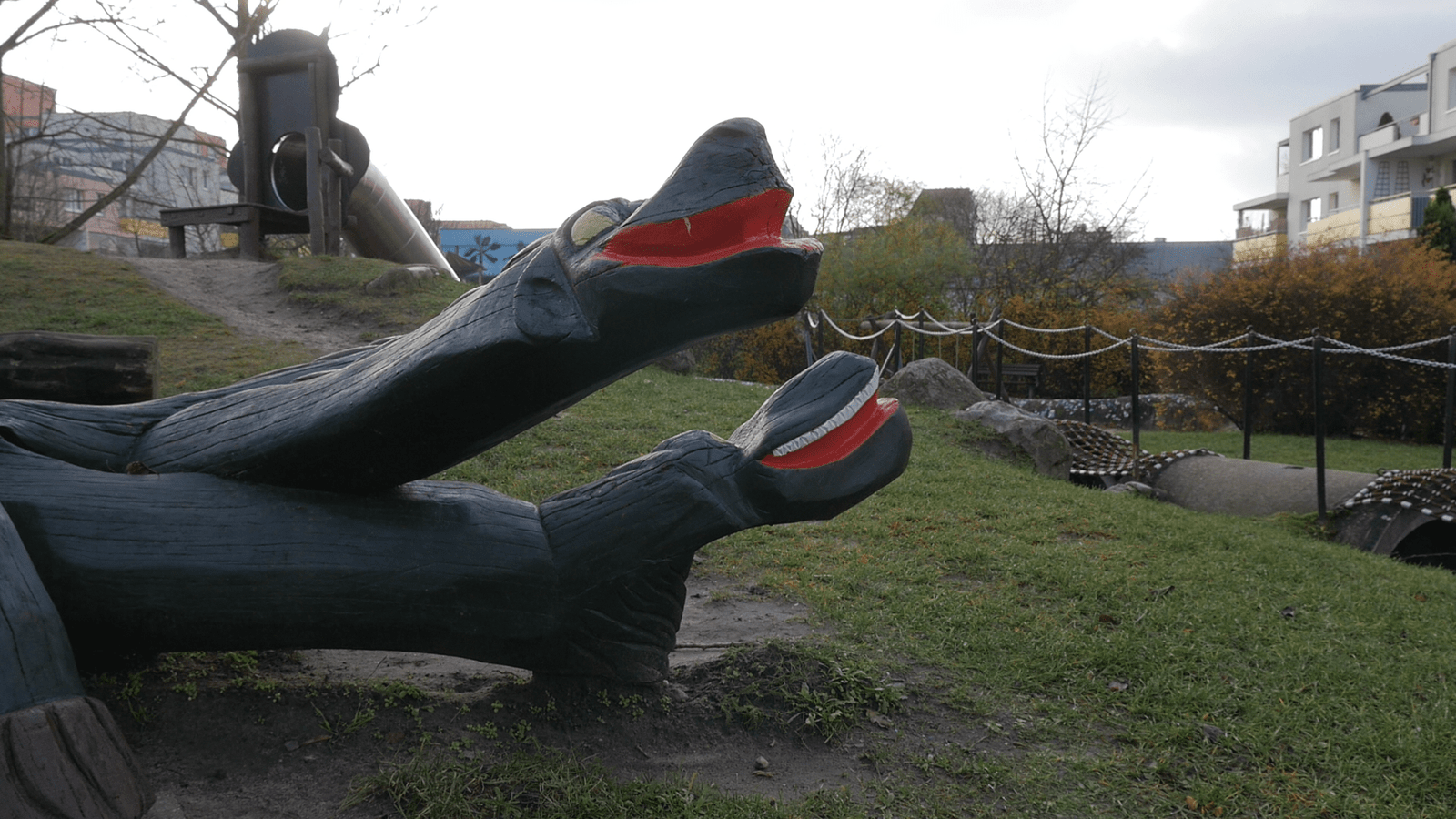 Adventure
Some of the more adventurous offerings include rock climbing, zip lines and for a fee, you can wander through the treetops at Volkspark Jungfernheide at their Forest High Rope Course.
Germany is much less litigious than the United States, so high-risk activities like these are more accessible. I think somehow this makes the local children more resourceful. But that is just a guess.
In Munich where I went for a few weeks to work, there is a surfing spot at the Eisbachwelle, a wave that forms as two small tributaries merge and flow into the newly formed Eisbach river through the English Garden in downtown Munich. They have signs warning surfers of potential dangers but there are no restrictions. In the US I feel this area would be fenced off for safety.
Within the city of Berlin, there are over 80 lakes, two rivers, and three canals. Depending on where you are and the time of year you can swim, skate, sail, cruise, paddle, bird watch, walk, bike ride, drink coffee or beer, or just put down a blanket and hang out with friends or sit and read. There are still several lakes where clothing is optional. The water here is not as wild as the ocean but I do find that being on the Spree river gives you a different perspective. There is something special about moving waters. And while I did a cruise, there are options to traverse the Spree in a canoe.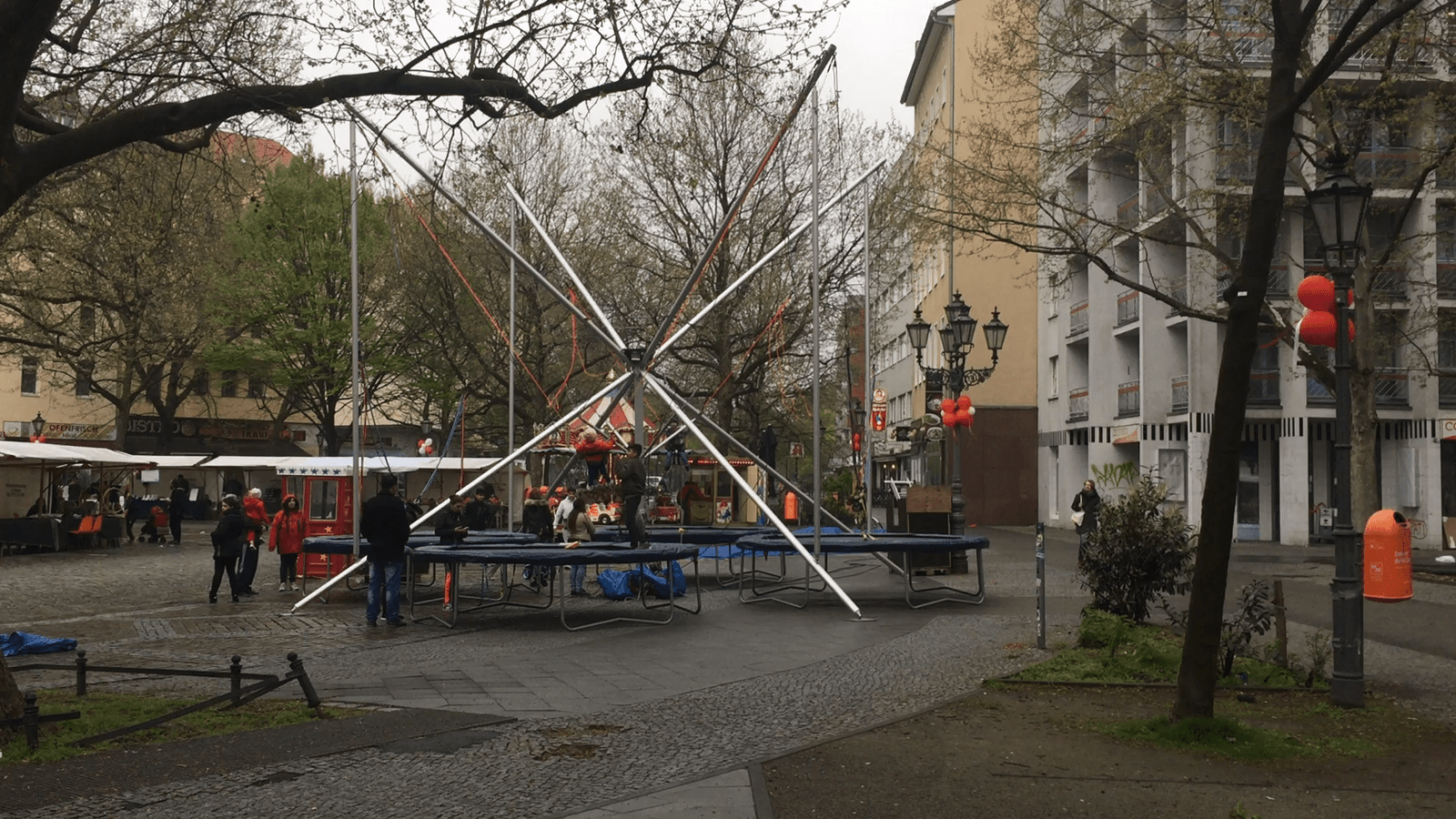 Community
Play in different forms brings people together. I often see parents at the farmers market which is set up on Fridays in the center of Arkonaplatz. They enjoy a glass of wine chatting with other parents while their kids play beside them or in the adjacent playground. In the larger park down the street, parents even sit and chat on the side of the trampoline as their children jump.
For urban youth, parks and public spaces, whether it be skate parks, soccer fields or open fields of grass provide space to hang and keep from getting into trouble. Like the local rap competition in Paris. The event seemed to give these kids, some who appeared like they could have been on the margins, something to strive for, a place for community, and a sense of pride.
Play is important, yet in larger cities even in some of the richest countries in the world, spaces to play are still not readily available. It is fundamental for our minds, for our spirit, for our creativity, for our parents and our kids and our communities. Berlin is fortunate to have easy access to wild, beautiful places for play.