Autum Forage at Spandauer Forst
Unsere erste gemeinsame Radtour ging in den Spandauer Forst. Ich war begeistert….es war das Hallimasch Season und es war ein einmalig schöner Sonnentag.
Wir waren entschlossen die Arbeit am Computer zu unterbrechen und machten uns auf, in die geheimnisvolle Welt der Pilze. Pilze erinnern mich immer an meinen strengen Vater. Wir trugen harte Kämpfe miteinander aus, aber diese Waldspaziergänge hatten etwas Erhabenes, etwas Versöhnliches.
In den Morgenstunden streift das Licht die Pilze von der Seite und der Tau läßt sie farbig glänzen. Die Schönheit der Pilze versöhnte uns für kurze Zeit. Ich lernte von ihm. Jetzt bin ich einmal mehr überwältigt davon, dass wir Mitten
In Berlin sind. Berlin hat etwa 29,000 Hektar Waldfläche. Welch eine unglaublicher Reichtum.
Bei unserem Tagesausflug haben wir einen Hallimasch zusammen mit 22 anderen Pilzen gefunden.
Wir aßen vier von ihnen.
Text by Gundula Friese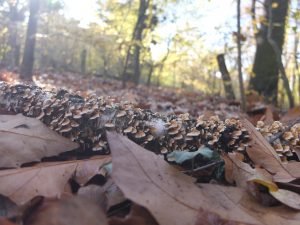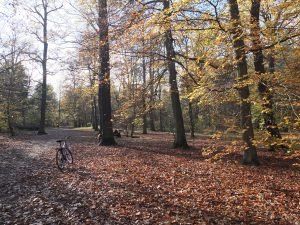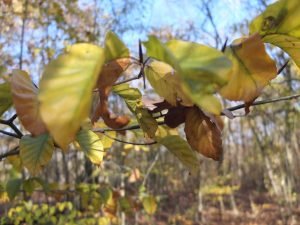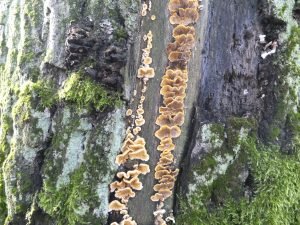 Mushroom Foraging in Spandauer Forst
Photographs by Gundula Friese
After the rains, Gundula and I set out to hunt for mushrooms in Spandauer Forst. This was my first time mushroom foraging and I'm not sure what I expected but I didn't expect to find so many varieties.
We found 23 varieties of mushrooms in the biodiverse forest of Spandauer.  And we were able to eat four!   
In addition to finding mushrooms, we saw evidence of wild boar. According to genetic reserach, there are three species of wild boar living in Berlin, one of them is in Spandauer Forst, another in Grunewald which is on our list of winter park destinations. We didn't find any actual boar in the wild but the park provides a living quarters for a few specimen. We captured them happily eating in the mud.
Video and English text by Laura J. Lukitsch